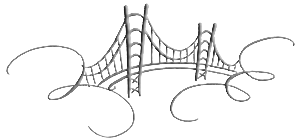 The Wedding
When and Where
We're getting married on Saturday, the eleventh of April, Two thousand and nine at five o'clock in the evening at Casa de la Vista, Avenue of the Palms, Treasure Island, San Francisco.
The ceremony will be followed by a reception with refreshments, dinner, and dancing.
Directions
Take Interstate 80 across the Bay Bridge. Exit at the Treasure Island and Yerba Buena Island off-ramp. Enter the Treasure Island main gate, continue straight along the waterfront on Avenue of the Palms, and turn right into the parking lot beside Casa de la Vista.
Please note that the return on-ramp to the Bay Bridge can be treachorous. If you're unfamiliar with the bridge, or planning to drink, we seriously recommend not driving.
Transport
We have rented a shuttle bus to take guests over to Treasure Island. Family members will be collected from and returned to their accommodation.
The shuttle will pick up other guests from the Embarcadero station—ideal for those traveling from San Francisco or the East Bay by MUNI or BART. Look for a black Bauer's bus leaving the bus stop on Steuart Street at the corner of Market Street (opposite One Market restaurant) at 4:30pm sharp.
The shuttle will also return guests from the island after the wedding. Please allow family members to take priority. The Bridal Limousine will also return to pick up stragglers at 11:30pm.
There is limited space on the bus, so non-family guests please let us know if you will be using it!
As part of the city, all San Francisco taxis serve Treasure Island.
The Attire
Cocktail attire.
Treasure Island can be windy in the evening. Please bring warm clothing for the outdoor ceremony.
The Menu
Please choose from lamb, sea bass, or vegetarian options when you reply to your invitation.